A Chatham Landmark Since 1955
Shop Ahoy Liquors, a Chatham landmark since 1955, is so much more than your local neighborhood liquor store.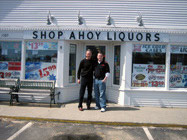 It's a kind of place you can go to for expert advice on wines, fine cigars, and for party-planning ideas including cocktail recipes that will wow your guests. Simply, it is the largest store of its kind in Chatham, a cross between the informality of the small Mom-and-Pop shops with the inventory of a larger retail store.
We have a huge selection of liquors, beer, wine, cigars and a well-trained staff who know how to guide customers to the products they like and want, all with an unpretentious attitude.
Everything You Need
If you are looking for a hard-to-find wine, a rare old port, or maybe a favorite Italian chianti, Shop Ahoy Liquors is the place to go. Looking for an obscure microbrew beer? Try our dedicated craft cooler. Want to bring your host an exceptional brand of scotch? Ask any of the staff here and they'll help you find it on one of the shelves.
Planning a party? Start here first. We are experienced and knowledgeable, we deliver if necessary, and, of course, we carry ice. Special orders are never frowned on and we offer case discounts. Most weekends in season, you'll be greeted at the door with a tasting of anything from a new fine wine to an aged scotch.
In addition to the enormous selection of domestic and imported wines, beers, and spirits, Shop Ahoy Liquors carries sake, cigars and other tobacco products (we have an eight-foot humidor!), and trademark hot sauces.
Our store is a redemption center, has an ATM machine, and the Massachusetts State Lottery.
On your way to the beach? Shop Ahoy Liquors is less than a mile from Harding's Beach. Stop here for your ice and other needs.